This weekend at RTX Austin, Rooster Teeth's annual convention, Gray G. Haddock, Head of Rooster Teeth Animation and showrunner for the upcoming anime-style series gen:LOCK, announced the Rooster Teeth voice cast for the show as well as a second teaser featuring David Tennate voicing the character "Doc" for the first time.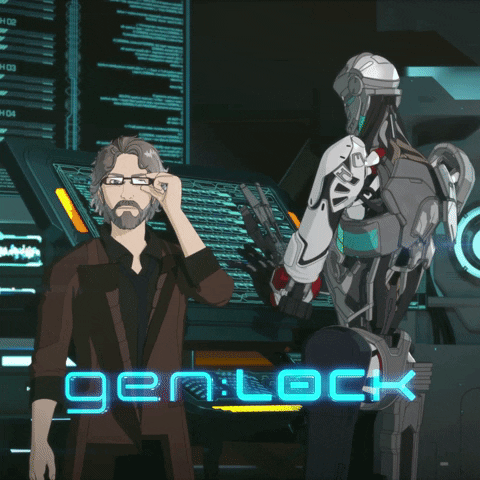 Rooster Teeth talent Lindsay Jones, (voice of Ruby Rose in "RWBY"), Miles Luna (Jaune Arc in "RWBY"), Chad James (voice of Boomstick in "DEATH BATTLE"), Blaine Gibson (voice of Nerf in "Camp Camp"), and Gray G. Haddock (voice of Roman Torchwick in "RWBY") will set to lend their voices for the show. The Rooster Teeth gang joins Michael B. Jordan, David Tennant, Dakota Fanning and Kôichi Yamadera.
Lindsay Jones (voice of Ruby Rose in "RWBY") will voice Razzle, Chase's squadron leader. Miles Luna (voice of Jaune Arc in "RWBY") will voice Miguel "Migas" Garza, Chase's best friend. Blaine Gibson (voice of Nerf in "Camp Camp") will voice Sinclair, an experienced ranger recruited to the gen:LOCK program, Haddock (voice of Roman Torchwick in "RWBY") will voice Leon, a mech unit leader, and Chad James (voice of Boomstick in "DEATH BATTLE") will voice Jodie, a mech pilot and close friend to Miranda.
Those who were in attendance were greeted by a video from Michael B. Jordan, himself, playing Dragon Ball Z Fighters. Jordan thanks the fans of Rooster Teeth, apologized for being unable to make the annual convention, expresses his love for anime (especially Samurai Champloo) and promises fans will not be disappointed by the new series. The moment he appeared on screen, fans roared in excitement.
The Rooster Teeth animation team also unveiled several new screenshots and images which can be shown below:
In gen:LOCK, Earth's last free society is on the losing side of a global war, and recruits a diverse team of young pilots to control the next generation of giant, weaponized robot bodies known as mecha. These daring recruits will find, however, that their newfound abilities come at no small cost.
gen:LOCK's voice cast is led by Michael B. Jordan (Black Panther, Creed) who voices the main character, Julian Chase, and also includes Dakota Fanning (The Alienist, Twilight Saga) voicing expert mech pilot and Chase's love interest, Miranda Worth, Kōichi Yamadera (Cowboy Bebop, Ghost in the Shell) voicing Kazu Iida, one of the new recruits transferring from Japan's military forces, to fight alongside Chase in the gen:LOCK program, andTennant voicing Dr. Rufus Weller aka Doc, a lead scientist with the Experimental Science Unit (ESU) and the inventor of the gen:LOCK technology.
gen:LOCK is the second anime-style series and third 3D animated series from Rooster Teeth Animation. RWBY, entering its sixth season this fall, is a global anime phenomenon conceived by the late Monty Oum. Red vs. Blue is Rooster Teeth's first 3D animated series that began as a machinima production before incorporating custom animation, and is the longest running web series of all time. Outlier Productions, Jordan's production company, is co-producing gen:LOCK along with Rooster Teeth.
"Being able to craft an ensemble cast using both our own talent and well-known actors from outside of the company is a fantastic opportunity," said Haddock. "Part of what makes Rooster Teeth so unique is that our staff runs the business, makes the company function day-to-day, writes, directs, produces, and performs on-camera and in the recording booth. It keeps our team and our community invested in what we do. I hope to work in as much of the extended Rooster Teeth Animation acting family as I can over time into this show, one way or another, so fans can continue to hear their favorite voices in this new world."
gen:LOCK will premiere in January 2019 exclusively on Rooster Teeth, available for iOS, Android, Xbox One, Apple TV, and at RoosterTeeth.com with memberships starting at $4.99 a month.