It didn't take long for Nintendo's Deluxe Digital Event, at E3, to have me fully invested in the vision that Nintendo laid out. From the comedic segments by the minds of Robot Chicken to the breathtaking visuals of the upcoming Legend of Zelda, for the Wii U, I was all in. I appreciate that, in the mostly predictable environment of E3, Nintendo has always brought something surprising and zany to the public. Sometimes that has worked, and other times it hasn't. Include the Super Smash Bros. Invitational and the Nintendo Treehouse live-stream, where we were treated to a more in-depth look into upcoming titles, and Nintendo might have changed the way other companies will present their new projects and games, in the future. Now that we've had time to absorb the events of last week, let's take a look at some key announcements and whether Nintendo was truly as good as we thought they were.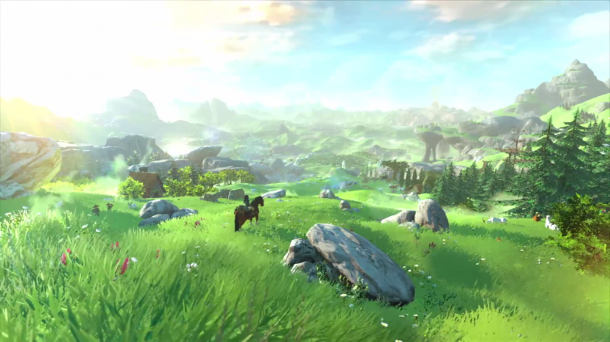 The Games
Nintendo announced unexpected titles like, Captain Toad: Treasure Tracker and Splatoon, and it gave us a peek at anticipated games like, Xenoblade Chronicles: X, Bayonetta 2, and Legend of Zelda for the Wii U. Seeing a trailer for an upcoming game is always exciting, but, if I can, I always prefer to get an extended look at the gameplay and to gain an understanding, from the developer, about the vision for the game. It is here that the Nintendo Treehouse live-stream event really helped, because we were able to get a more prolonged examination of these title from the games' developers themselves. Being able to hear from the people at Tecmo Koei and Nintendo producer/director Eiji Aounuma about the upcoming Hyrule Warriors gave me more insight into the project and, by doing so, allowed me a better understanding of how this game would play and what story was behind the game's development. As a result, Hyrule Warriors has gone from a game I was hesitant about to a title that I cannot wait to play. In a sense, the same can be said about the other titles presented in the live-stream. I came away knowing way more about these games and being further excited about them. On the downside, there were few titles that were given specific release dates. Super Smash Bros, Nintendo's most hyped game of the week, was given the obscure release window of Holiday 2014. I don't think I'm being too harsh when Nintendo's competition has more than 20 titles with confirmed release dates, in 2014, while Nintendo has less than 10. That won't stay that way, as Nintendo will announce those details soon, but Nintendo did come up short in this area.
Amiibo
We knew that Nintendo was planning on unveiling the NFC figurines, but what we didn't know was what titles these figurines would be used for. We now know that it will start will Super Smash Bros and then make its way to Mario Kart 8. What is even more exciting is that Nintendo is opening this up to 3rd party developers, as well. I was initially afraid that these figurines would be a requirement for Super Smash Bros, but I was glad to hear that they are intended to be used for gamers who want to transport the stats of a particular character to another person's Wii U. I thought Nintendo did a great job of openly answering questions about this new venture. They even mentioned that Nintendo legend Shigeru Miyamoto has a personal Amiibo in his likeness, hinting at the possibility of custom Amiibos for those willing to pay for it. I appreciate the candid nature of Nintendo's response to Amiibo. They have a vision for how to use it for a few titles, but beyond that, they are exploring the possibilities of Amiibo.
Super Smash Bros Invitational
Here's when I knew that the SSB Invitational was a success. My wife (who is not a gamer) and I were on the edge of our seats as the final battle came down to sudden death. 16 Smash Bros masters battled through 4 rounds and it was indeed, highly competitive. This was all done at the Los Angeles Nokia Theatre in front of an audience of 3,000 enthusiastic spectators. This event did two things: build up hype for this title and give us an idea of how this game plays. After watching, I'm pretty confident that Zero-Suit Samus will be my go to character to play as. Speaking of characters, Nintendo announced that 2 new characters would be added to the roster, Palutena, from Kid Icarus: Uprising and the infamous Pac-Man. Its mind blowing to me that Sonic the Hedgehog, Mario, and Pac-Man will be in a title together. To top it all off, director Masahiro Sakurai made an appearance and Nintendo of America President Reggie Fils-Aime helped announce the winner. When Reggie was challenged to a round by one of the competitors, he answered that, after getting some time on the 3DS version of SSB, he would come back next year and "kick [his] ass." Like I said, you can always count on Nintendo doing something different and unexpected.
So after this E3, what do we take away from the choices Nintendo made? Well for starters, Nintendo has validated the usefulness of a digital presser. It can be more entertaining, less awkward, and more compact. The Nintendo Treehouse gave us a chance to peer into the minds of these brilliant developers. Yet, I walked away excited about games but left wanting more specific dates for many of them. Still, I think more people are talking less about "if" they'll get a Wii U and considering "when" they'll pick up the console. In the end, that is a success in and of itself. Plus, it was just a fun week for Nintendo fans. And as Reggie mentioned in the Deluxe Digital Event, "What's wrong with having a little fun?"