It was teased yesterday on Twitter that there would be something that fans of the world of Harry Potter and the movie Fantastic Beasts and Where to Find Them would enjoy and today we got that thing.
In one year, return to the Wizarding World with Fantastic Beasts: The Crimes of Grindelwald. #MagicInProgress #FantasticBeasts pic.twitter.com/8aWj8xhGj5

— Fantastic Beasts (@FantasticBeasts) November 16, 2017
In true magical fashion, the official Fantastic Beasts Twitter feed released the title of the next film in the series along with a photo of the cast. The official title of the next film is Fantastic Beasts: The Crimes of Grindelwald. It looks like this next film might feature the epic battle between Grindelwald and Dumbledore that has become legendary in the Wizarding World.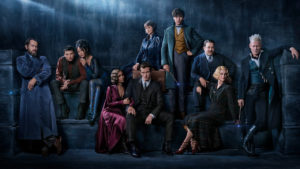 The cast photo features the return of Eddie Redmayne, Katherine Waterston, Dan Fogler, Alison Sudol and Ezra Miller from the original film. It also includes Johnny Depp returning as the villain Grindelwald and our first look at Jude Law as a young Albus Dumbledore. As the wizarding world becomes divided, Dumbledore (Law) enlists the help of his former student Newt Scamander (Redmayne) to help him stop the plans of Grindelwald (Depp) and his followers.
Fantastic Beasts: The Crimes of Grindelwald is due to be released one year from today on November 16, 2018.