Oy with the poodles already! We finally have a release date for Gilmore Girls "A Year in the Life"! It will debut on Netflix November 25. The four episodes each focus on a season—winter, spring, summer, and fall. In the first official trailer, Lorelai (Lauren Graham) ponders some very important questions: "Do you think Amy Schumer would like me?" and "Do you think John Oliver would find me hot?"
https://www.youtube.com/watch?v=fTnU5MG5Edw
Amy Schumer has already given us a response (of course she would).
It's been nine years since we've strolled through Stars Hollow with Lorelai and Rory (Alexis Bledel), gotten a bite to eat at Luke's Diner, stayed at the Dragonfly Inn, and shopped at Doose's Market. In four short months, we'll walk the path through town once again.
The whole gang is back—Luke (Scott Patterson), Sookie (Melissa McCarthy), Michel (Yanic Truesdale), Lane (Keiko Agena), Emily (Kelly Bishop), Christopher (David Sutcliffe), Paris (Liza Weil), and even Kirk (Sean Gunn). (Unfortunately, Edward Herrmann passed away in 2014.) With McCarthy's fantastic career continuing to take off, it was unclear whether she'd return, but she's confirmed for two episodes. Yes!
Rory's main love interests through the years are back as well: Dean (Jared Padalecki), Jess (Milo Ventimiglia), and Logan (Matt Czuchry). A big question on everyone's mind is who will Lorelai and Rory end up with? It's clear this new season is for the fans, and hopefully creator Amy Sherman-Palladino and executive producer Daniel Palladino give us what we want: Luke + Lorelai 4-eva! I'm also rooting for Rory and Jess. (Is anyone really rooting for Dean?)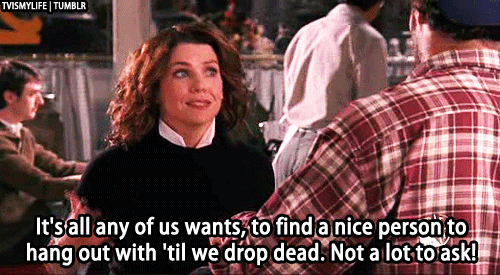 Regardless, our favorite fast-talking coffee addicts are back, and I can't wait to see what they've been up to the past nine years—and what amazing pop-culture references they have in store for us come November. In the wise words of Mrs. Kim, "Wear socks!"
Update!
John Oliver has responded!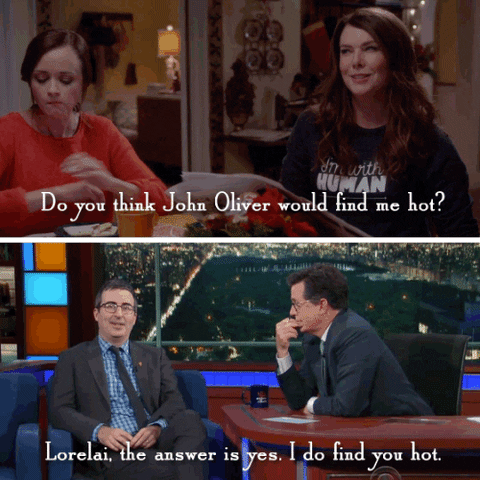 And, then Lauren Graham responded:
Any John Oliver + Lorelai shippers out there?